NY State Offers Businesses Programs to Survive the Recession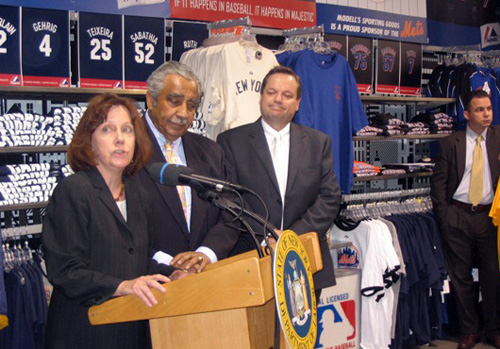 Department of Labor Commissioner Patricia Smith is traveling throughout New York State encouraging businesses to take advantage of three government programs. Smith says these programs can help employers and workers survive the recession.
The Shared Work Program
If a business is struggling, the program allows an employer to reduce staff hours. In turn, those workers are eligible for partial unemployment benefits. Smith says it's a win for employers, too.
'When there is the end of the downturn and business actually starts to pick up again, you have your workforce right there. You just increase their hours again. You don't have to rehire, you don't have to retrain, you don't have to reorient.'
In 2008, only 33 city businesses participated in the 'Shared Work Program.' Between January and May of this year, more than 200 companies enrolled.
The Building Skills in New York State Initiative
The Department of Labor has money set aside for businesses looking to enhance training. Commissioner Smith says:
'One of the ways businesses keep competitive is they keep the skills of their workers very sharp. Training is the key to our future prosperity.'
Smith says many employers are eligible for grants of up to $50,000. She says this year only five New York employers have applied so far -- the deadline is July 20th.
Federal Work Opportunity Tax Credits Program
Tax breaks will be given to business owners that hire people like ex-felons, veterans and those receiving public aid. New York State Congressman Charles Rangel says the program will help spark up employment while helping businesses get a tax break.
'They will be able to get a tax credit if they reach out into the community and hire those people who are sorely in need of jobs.'
Businesses that participate in the Work Opportunity Tax Credit program can get thousands of dollars in tax breaks for each employee they hire.
As part of the federal stimulus package, more workers are eligible for the program, which means more tax breaks for businesses.
Smith and Rangel say they hope these programs will keep businesses afloat and people employed. More about these programs can be found on www.labor.ny.gov.
Reporting by Rachel Senatore and Yaritza Gonzalez