Robert McNamara: His Life and Legacy
Monday, July 06, 2009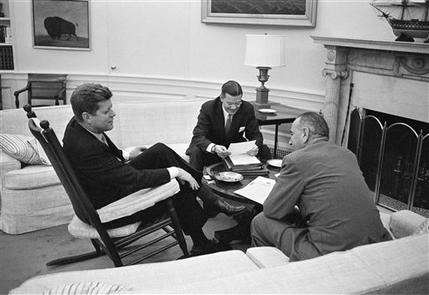 Robert S. McNamara served as the eighth United States Secretary of Defense from 1961 to 1968 and was the architect of the ill-fated escalation of American forces during the Vietnam War. McNamara later admitted tearfully that America's pursuit of the Vietnam War had been 'terribly wrong.' He died July 6th, 2009, at the age of 93.
Related content:
The Takeaway - July 6, 2009, Robert McNamara: His Life and Legacy

Larry Korb, a former Assistant Secretary of Defense, who had known McNamara for over two decades discusses the man and his legacy.
The Brian Lehrer Show - May 4, 2004

Brian Lehrer speaks with Robert McNamara about the freedom of a secretary of defense to speak out against a war being conducted by the president and commander-in-chief.
The Leonard Lopate Show - March 26, 1996

Leonard Lopate speaks with Robert McNamara about the tragedy and lessons of the Vietnam War.

More in: