Declaration of Independence On View at NYPL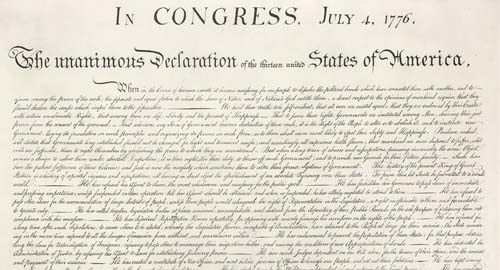 The New York Public Library is offering a special viewing of the original copy of the Declaration of Independence this July Fourth weekend. The full-text version of the Declaration is one of only two fully intact copies. It's 233 years old. The display also includes a collection of letters written by Benjamin Franklin to George Washington. WNYC caught up with some of the people who came out for a peek at history.

Kurt Berry, Tourist:

'It's the actual document, that letter, written in his own handwriting, became the cornerstone of our society and not just our society but its affected democracies around the world. It's staggering to be standing in front of it like that.'

Dwayne Williams, Self-proclaimed History Buff:

'To see the original it is a little breathtaking momentarily when its lasted over 200 years and it's still intact. That's impressive.'

Andrew Cloud, Tourist from Minnesota:

'The fine writing, the beautiful paper, seeing the newspaper from July 13, 1776. It's really exciting to see it, in person.'

The library on Fifth Avenue is normally closed for the holidays, but there's free access to the documents exhibit Saturday and Sunday from 1 to 5pm.