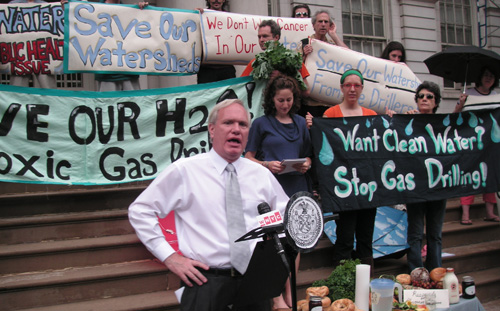 Mayoral hopeful Councilman Tony Avella is making New York City's water supply one of his campaign issues. He's introducing a resolution in the Council calling for a statewide ban on the controversial gas-drilling procedure known as hydraulic fracturing (AKA 'hydrofracking' or just 'fracking').
Background: Last summer, I reported an in-depth story on health concerns about possible hydrofracking in upstate New York, including areas close to New York City reservoirs. For now, all the action is in neighboring Pennsylvania, while authorities in Albany figure out how they want to regulate this stuff.
A smallish but energetic cadre of environmentalists joined Avella on City Hall steps. To illustrate their concerns about fracking, they put together this tableau of New York State products they say could be tainted by drilling chemicals.