Comptroller DiNapoli Seeks to Withhold Senators' Pay
New York State Comptroller Thomas DiNapoli says he's planning to withhold pay for state senators until there's a resolution of the leadership struggle that has paralyzed the Senate for weeks. DiNapoli is filing suit in state Supreme Court seeking a decision on whether he has the constitutional authority to hold up the payments.

Meanwhile, facing a holiday weekend trapped in Albany, both sides of the Senate stalemate say they're closing in on an end to the nearly four-week standoff over control of the chamber.

Click for full statement and fact sheet from the comptroller's office.

After a one-hour closed-door meeting between feuding Senate leaders and Governor Paterson, the governor is planning to mediate tomorrow to try to mesh power sharing proposals from both sides.

The Democratic conference is pushing for a short-term arrangement to pass some critical bills for New York City and local governments statewide. The Republican-dominated coalition that staged a June 8th coup seeks a power-sharing deal to run through the end of the Senate term in December 2010.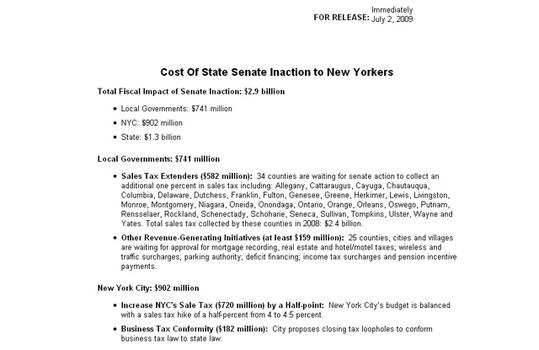 of