Senate Shenigans Yield No Agreement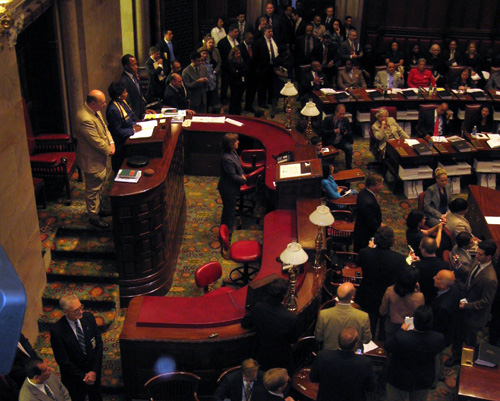 If at first you don't succeed....try again. That appears to be Governor Paterson's philosophy when it comes to getting New York's senators to get down to business, and vote on bills that are set to expire in five days.
'I demand that the Senate stay in special session until an agreement is reached.'
Republicans and Democrats obeyed Paterson's order to meet today, but, in a sign of continued differences over who is leading the chamber, they held separate sessions, with Democrats going first. Democrats' session:


Democratic Senator Malcolm Smith continued to insist Assembly members needed to be there, to make any meeting legal. Republican Senator Tom Libous didn't need a reason for his motion to adjourn. Republicans' session:



Governor Paterson says he's asked the state treasurer to withhold pay for senators' travel expenses. And, he says because the Senate is split, he's written a letter to state comptroller asking if he can withhold senators' paychecks, because they must be signed by the Senate's presiding officer. There currently isn't agreement on who that is.