Carbon Counter Live in Madison Square Garden
New York is a little bit greener today -- or at least more aware -- with the launch of the world's first real-time carbon counter. The almost 70-foot high billboard outside of Madison Square Garden shows the running total of greenhouse gases in the atmosphere.


The current number displayed on the screen is more than 3.6 trillion metric tons. The Carbon Counter number is based on global measurements developed by scientists at MIT and include all long-lived greenhouse gases covered under the Kyoto and Montreal Protocols.
The Carbon Counter is all part of the "Know the Number" campaign, a new climate-change awareness and education initiative designed to increase the public's understanding on the dangers of greenhouse gases.
Deutsche Bank sponsored the billboard and spokesman Mark Fulton says he hopes the counter will spark worldwide discussion.
"It just helps the debate, keeps the discussion moving. Because this is not something we can turn to every now and then and hope its gone right. We've got a lot of work to do to arrest this trend."
The up-to-date count can be seen 24-7 at know-the-number.com and twitter.com/knowthenumber.
-- Reporting by Yaritza Gonzalez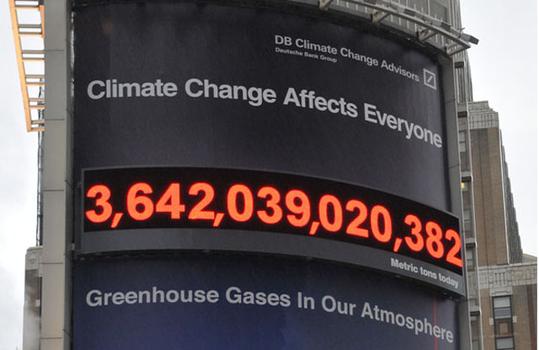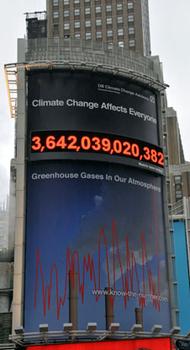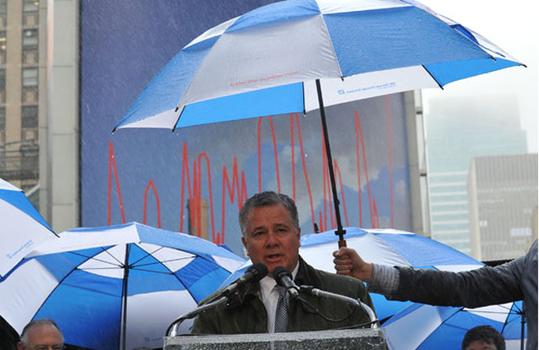 of