Protests in Streets of Iran, at U.N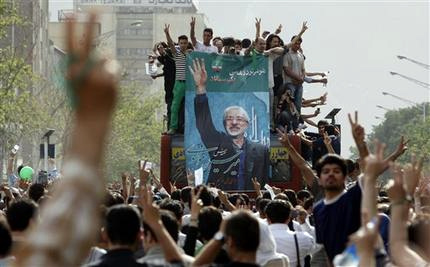 Protests rocked the streets of Iran throughout the weekend, as citizens reacted to the apparent victory of incumbent Mahmoud Ahmadinejad in the country's presidential election. Many had hoped that Mir Hossein Mousavi would ease repression and create a better relationship with the outside world. Afshin Molavi, Senior Fellow at the New America Foundation and the author of 'Soul of Iran: A Nation's Journey to Freedom,' joined The Takeaway with a look at what comes next for Iran. Iranian Americans called in to The Brian Lehrer Show to share what they are hearing directly from Iran and to share their opinions on the elections results.

Meanwhile, WNYC's Arun Venugopal covered protests at the U.N. headquarters.

Shouting 'We condemn coup d'etat' and other chants, more than 100 protesters gathered at Dag Hammarskjold plaza to dispute the results of the Iranian election. Nazi Hajari came from New Jersey. She says there's no way Mir Hossein Mousavi could have lost to the incumbent, Mahmoud Ahmedinejad.
'Mousavi is from Azerbaijan. And for him not to get the vote of Azerbaijan is like saying Obama does not get the vote of African Americans. It's that ridiculous.'
Many of the protesters came together through Facebook. They expect the opposition to build in the coming days.
Some Useful Iran Election Online Resources
Twitter search for Iran Election
Twitter Posters From Within Iran