Side by Side: Senators Monserrate and Malcolm Smith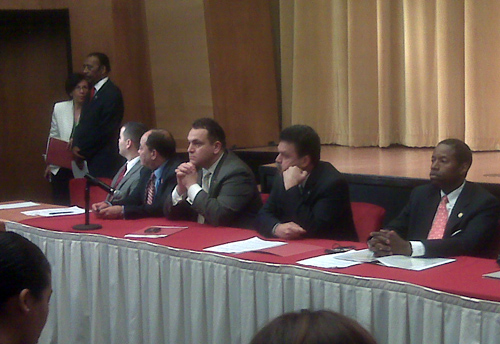 State Senate business remains at a standstill as senators await a ruling on whether the GOP's surprise takeover earlier this week was legal. Meanwhile, deposed Senate leader and Democrat Malcolm Smith made his first public appearance since the coup, and he defended one of the men who helped depose him--renegade Democratic Senator Hiram Monserrate.
"He took a position. I think people should look at the strength of what he's done, as opposed to make it look like he did something wrong. He's very passionate about his issues and you got to respect a person for that plain and simple."
Both men attended a Puerto Rican Latino Caucus forum to address disparities in medical benefits for Puerto Rican war veterans in Midtown Manhattan Friday morning.
Earlier this week, a Smith spokesperson called Monserrate a 'thug.' Monserrate faces a felony assault charge stemming from a December incident in which he allegedly stashed his girlfriend in the face with a broken glass.
Meanwhile, Bronx residents gathered in front of Senator Pedro Espada's empty district office on Fordham Road, to protest his involvement in the Republican takeover of the state Senate. Residents say Espada isn't an advocate for the Bronx -- and they feel betrayed. Bronx resident Lou Cicalese says he has yet to speak to one of his neighbors who thinks Espada is doing a great job. And, he adds that he believes the recent actions to be a 'power grab' and a 'travesty.'
State Supreme Court Justice Thomas McNamara has said that he will rule on the case on Monday.