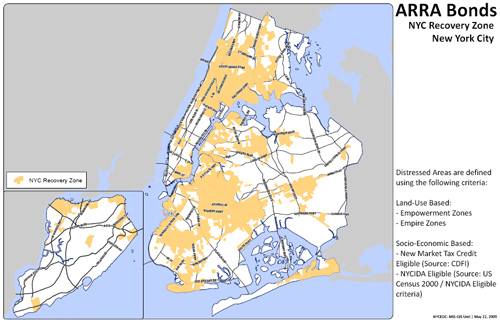 Which neighborhoods in the city are economically distressed enough to warrant an extra boost for real estate developers?
From the look of the map above, the Bloomberg administration apparently thinks pretty much everywhere: downtown Brooklyn, the far West Side, Long Island City, and the East River Science Park. These are the 'Recovery Zones,' areas where, as of Wednesday, developers can become eligible for triple tax-free (read: low interest-rate) bonds that the federal stimulus act is making available. The stimulus bill defines recovery zones as areas 'having significant poverty, unemployment, rate of home foreclosures, or general distress.'
Unlike the city's existing lending programs, these bonds can be used for retail centers, office buildings and warehouses. They will be issued to developers in amounts between $20 million and $100 million--which is also higher than allowed under current city bond programs. In the past, the federal government has been reluctant to subsidize this type of commercial, for-profit development by sacrificing the potential tax revenue that investors would pay on interest from the bonds. Not any more, so long as the project is in one of these areas mapped above.
The federal stimulus program gives states and localities the power to issue $15 billion worth of Recovery Zone Facilities bonds throughout the country. New York City expects to get about $200 million of that, which it has to issue by the end of next year.
The city's Economic Development Corporation has more information here.New York's 'Recovery Zones'