Our Digesting Politics trio plumbs the why and what for of the coup in Albany.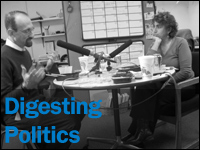 A sample of the conversation:
Brian Lehrer: I'm still trying to figure out what this means. To the best of my ability to discern, this coup was about nothing other than itself. In other words, opportunity for the two Democrats who flipped to the Republicans, giving the Republicans the majority, the ability to vote in their majority leader. The two Democrats, Hiram Monserrate and Pedro Espada were just doing it so they can have more power, personally, since they were the kingmakers. This was not about any issue under the sun, any agenda they had whatsoever, for the state, for their districts in the Bronx or Queens respectively.
Andrea Bernstein: My impression is that Pedro Espada, this is his record so far. He is under investigation for campaign finance disclosure irregularities. Marcia Kramer of Channel 2 reported that, while he was one of the biggest voices against bailing out the MTA with bridge tolls, he actually lives in Westchester. He is somebody that is part of this old Bronx political machine...I don't know that the Bronx is a place of heavy ideology, but my sense of Pedro Espada is that he is further to the right of the basic New York State Democratic consensus.
Bob Hennelly: I think Montserrate gave himself another lease on life. He had this cloud hanging over himself with his assault charge...He was on your show today talking about policy and being looked to as someone in a leadership position. From a public relations standpoint, it is brilliant and it has really to do with the leadership vacuum around Governor Paterson and Malcolm Smith. It was a coup of opportunity.
'Digesting Politics.' We're back!
About Digesting Politics: Eavesdrop on Andrea Bernstein, Brian Lehrer, and Bob Hennelly, three of the most political savvy minds around, as they eat lunch and break down the week's political activities.