Senate Coup: Reform or Power Grab?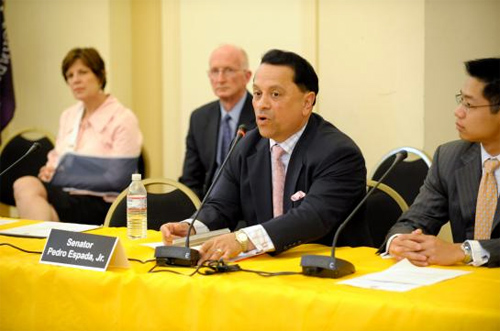 One of the dissident Democrats who joined Republicans in yesterday's leadership coup in New York's Senate says the move isn't about returning power to the GOP. Queens Democrat Hiram Monserrate tells WNYC's Brian Lehrer it's about pushing real reform on which the five-month old Democratic leadership failed to deliver, saying yesterday's vote enacted several reform measures.
'We also impose a term limit on committee chairs so as to as prevent, or to ensure, new ideas, progressive values.'
But Manhattan Democratic Senator Liz Krueger says the coup was simply about Republicans wanting control back.
'Well I think this was a power grab because they felt totally threatened by Democratic ideals and Democratic agendas going forward.'
Monserrate was joined in his defection by Pedro Espada of the Bronx, who was made leader of the Senate in yesterday's vote. Queens Democrat Malcolm Smith says the vote was illegal and he's still in charge. A court challenge is expected. Espada says he'll convene the Senate tomorrow with or without Smith and his backers.
The Republican takeover has some locals outraged. Rebecca Slotnik is a teacher and resident of Jackson Heights, within Senator Monserrate's district. She says was already outraged, about an alleged assault by Monserrate against his girlfriend.
'This just shows that he might not actually understand the job description which is to represent the people who elected him. I don't think he's doing that at all.'
Slotnik says she's especially concerned the Republican takeover will prevent the passage of same-sex marriage legislation. However, Monserrate told Brian Lehrer that the leadership change won't affect the prospects of a same-sex marriage bill.
'I don't think that it impacts it one way or the other. Senator Espada, who's the president of the Senate, is in support of gay marriage. he has stated that he wants to have a dialogue and a discussion and an up or down vote.'
A bill passed the Assembly but has been stalled in the Senate, where it's not clear it has the votes to pass.
Bronx Senator Pedro Espada's role in the coup surprised constituents in his district who have been paying attention to the state political drama. Bronx resident Morey Toure says he thinks Espada, along with fellow Democrat Hiram Monserrate of Queens, betrayed Democrats.
'I think it's selfishness they have done - no matter what being with your party you supposed to have a conviction - party's the party it's a family thing.'
Espada represents the 33rd District in the East Bronx. He replaced former State Senator Efrain Gonzalez last year. Gonzalez has since pled guilty to funneling $200,000 in state funds for personal use.
Meanwhile, Mayor Bloomberg is remaining pragmatic about the political coup in Albany, even as he waits for state lawmakers to act on several agenda items before the current legislative session ends.
Bloomberg says he's hoping to see movement on approving parts of the city's budget, renewing mayoral control of the schools, and reorganizing the pension system -- no matter who's in power:
'You know I can't read the tea leaves anymore than anybody else and it's not our job. We are going to go up there and work as hard as we can -- whoever is in power. I think all these threeissues you need non-partisan support anyways.'