Sharpton and Paterson Pay Their Respects to Edwards Family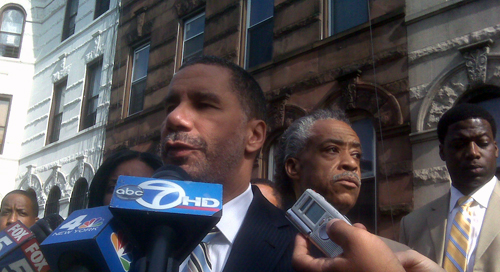 Reverend Al Sharpton brought Governor David Paterson to pay his respects to the family of slain NYPD Officer Omar Edwards at his Eastwick/Bed Stuy, Brooklyn brownstone, just a few doors down from the elevated J and M subway line.
Governor Paterson expressed confidence in the ability of Manhattan District Attorney Robert Morgenthau to conduct an impartial probe of the incident in which a white plainclothes officer shot and killed off duty Officer Omar Edwards, who is black. In the incident last week in East Harlem, authorities say Edwards had his gun out while he was in pursuit of a suspect he found rummaging through his car. The NYPD has said it has three witnesses - two police officers and the original suspect that Edwards encountered - and that all three confirm that the shooting officer, Andrew Dunton, identified himself before firing his weapon.
Governor Paterson said that on Wednesday he will meet again with Reverend Sharpton, along with community leaders and Brooklyn State Senator Eric Adams, to discuss the possibility of an independent review of the issue of officer shootings, in part, to try and develop better training. The NYPD has already started to ramp up re-training in the aftermath of the Edwards shooting. Sharpton and Harlem Congressman Charles Rangel have called for an independent Federal review. Sharpton also was critical of comments attributed to Mayor Bloomberg that race had no role in the Edwards shooting. Sharpton said elected officials who speak before the completion of the official investigation only undermine public confidence in the process.