Too Early for Kindergarten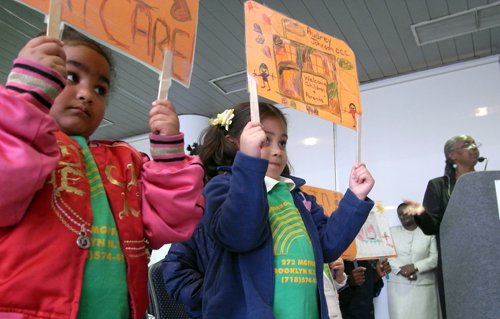 At a state hearing today, lawmakers heard complaints from early-childcare workers and union leaders about city plans to send children who are four to five-years old and in subsidized early-childcare programs to public kindergarten classes next fall.
Vocal opponents of this plan fear the waiting lists for kindergartens will only grow and that parents will have to send their children to schools, which are out of their zones. Others fear thatafter school and summer child-care programs will not be satisfactory.
The Department of Education couldn't say how many students are currently signed up for kindergarten, have offers, or are wait-listed now. Representative William Scarborough questioned Elizabeth Sciabarra, Student Enrollment Planning and Operations CEO at the Department of Education about plans to move forward when so little is currently known.
'You can't really say with certainty what's going to happen...We can, one thing we can say is that all the data show that we will not have more than 3,200 youngsters coming into the system, the question is at this point, exactly which children are they?'
The Department of Education says this will save the agency $15 million and that they guarantee all 3,200 displaced children will have a slot at a school in or near their zone.
If the plans passes, it will go into effect this September. Law makers will return to Albany this week to determine whether to go forward with legislation or if state pressure alone will be enough for the city to repeal this plan. Senator Vilmanette Montgomery called for a one-year moratorium on this plan.