Obama Picks NY Judge for Supreme Court
Listen to an NPR special about the nomination, including President Obama's remarks, tonight at 8pm on AM820.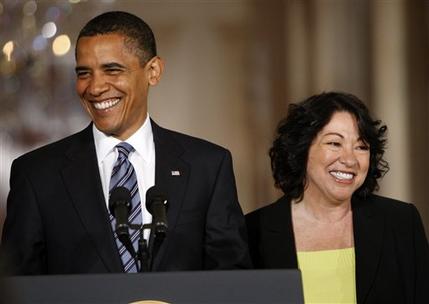 From a housing project in the Bronx to the Supreme Court...If confirmed, U.S. 2nd Circuit Judge Sonia Sotomayor would become the third woman ever to serve on the Supreme Court and the first ever Hispanic. Sotomayor is a self-described 'Nuyorican' and her nomination is being celebrated in the Puerto Rican community.
In making his announcement, President Obama called Sotomayor 'an inspiring woman.' For her part, Sotomayor said her heart is 'bursting with gratitude.' She recalled her childhood in the Bronx, and her schooling at Yale and Princeton, as she accepted the nomination.
Listen to Judge Sotomayor's remarks:

Judge Sotomayor created controversy by saying that judges base their decisions on their life experiences, as well as their legal research. Sotomayor says her background as a child in a South Bronx housing project has given her an appreciation of different perspectives while on the bench, but also added that she respects the Constitutional principles set in place by the nation's Founding Fathers.
'It has helped understand, respect, and respond to the concerns and arguments of all litigants who appear before me, as well as to the views of my colleagues on the bench.'
Jenny Rivera, a professor at CUNY's School of Law, worked with Sotomayor in the early 1990s and agrees that Sotomayor's upbringing has influenced her legal decisions.
'She is connected to people. She cares about people. There is I think something to be said about a life of overcoming obstacles, of showing that sense of self, that commitment to succeeding, despite what others might say about you.'
More from WNYC >>
More from The Associated Press>>
More from The Takeaway>>