City Hall Commends Plot Foilers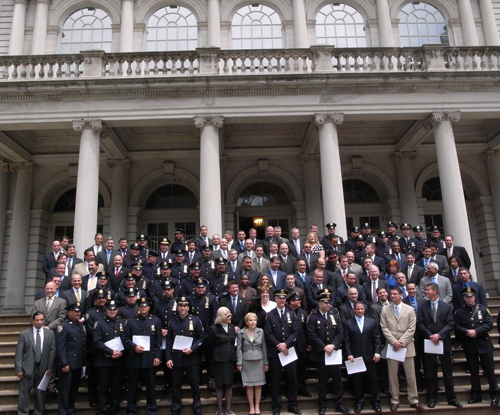 Law enforcement agents who helped thwart a suspected New York City terror plot have received special thanks from the city and state. Mayor Bloomberg awarded certificates to more than 100 detectives, officers and agents from the FBI, NYPD and state police. New York Police Commissioner Ray Kelly says cooperation was never better between the agencies in what he called a 'tightly controlled investigation.' He said:
'The number one priority in this case was public safety. We made sure no one was at risk at any time, especially during its culmination.'
Four men were arrested Wednesday and accused of plotting to blow up two synagogues in the Bronx, and shoot down military planes. A government informant infiltrated the group, and sold them phoney explosives and weapons. The four have pleaded not guilty to charges of conspiracy to use weapons of mass destruction within the United States and conspiracy to acquire and use anti-aircraft missiles.