FBI Foils Plot to Bomb Bronx Synagogues, Four Men Charged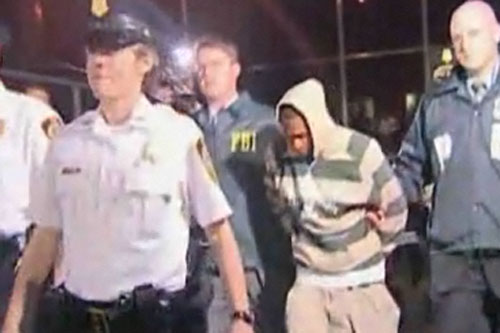 The Brian Lehrer Show
Update on Local Terror Plot
New York Times City Room bureau chief Sewell Chan and James Gordon Meek, Washington correspondent for the New York Daily News, talk about the latest on the alleged Bronx terrorism plot.

Four men arrested after planting what they thought were explosives near a synagogue and community center in the Bronx and plotting to shoot down a military plane were bent on carrying out a jihad against America, authorities said.
The suspects were arrested last night night, shortly after planting a 37-pound mock explosive device in the trunk of a car outside the Riverdale Temple and two mock bombs in the backseat of a car outside the Jewish Center, a few blocks away, authorities said.
James Cromitie, David Williams, Onta Williams and Laguerre Payen, all of Newburgh, N.Y., were charged with conspiracy to use weapons of mass destruction within the United States and conspiracy to acquire and use anti-aircraft missiles, the U.S. attorney's office said.
At a news conference outside the Bronx temple this morning, Police Commissioner Raymond Kelly was asked of the suspects' motive:
'More information about the motive I'm sure will be developed as the case progresses, but right now, (they) stated they wanted to commit jihad, they were disturbed about what was happening in Afghanistan and Pakistan, that Muslims were being killed. They all made statements that if Jews were killed in this attack, you know, that it would be all right.'
Bronx Assemblyman Jeffrey Dinowitz says New Yorkers are safe, despite the apparent religious resentment of the alleged plot.
The fact that this type of hatred exists means that we all have to be vigilant all the time, and i think in new york we're in very good hands.
Mayor Michael Bloomberg warned against stereotypes, emphasizing that the temple is open to people of all faiths, including a Muslim girl who sometimes prays there.
Kelly said the temple may have been chosen because of 'convenience' - it is near a highway. He said the suspects had scouted the location twice before. Kelly said the uniformed officers who flooded the neighborhood were there to improve residents' 'comfort level,' even though 'no one was at risk. This was a very tightly controlled operation.'
Officials say the arrests came after a nearly yearlong undercover operation that began in Newburgh. Kelly and other law enforcement officials met privately with congregants inside the Riverdale Temple after the arrests last night. David Winter, executive director of the Riverdale Jewish Center, says the congregants' initial shock was followed by relief.
'Soon after the meeting, a lot of that shock really dissipated, and it was more relief that what could have been a terrible, terrible tragedy was really some sort of a success over terrorism, and the authorities did what they needed to do. Even though we didn't know it, they were watching us, they were safeguarding us, and that is a tremendous relief.'
Winter says his members feel secure, and Riverdale Jewish Center is open for business.
'Immediately following the meeting last night, we sent out an email blast letting people know what happened at this meeting. We did a phone blast as well to our members late last night to let them know that everything is fine, that we're safe and secure, and that today will be business as usual -- Three prayer services in the morning, in the afternoon and late at night. There's a preschool that meets here, office hours, celebrations that go on. Business as usual.
Senator Charles Schumer said if there can be any good news out of this case it's that 'the group was relatively unsophisticated, penetrated early and not connected to any outside group.'