Flu and Compassion Are Always in Fashion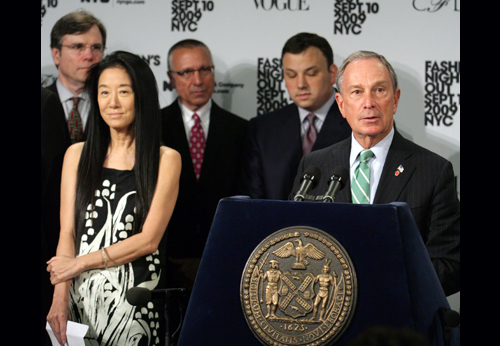 Highlights, high-heels and glamour galore filled the Blue Room today, where Mayor Bloomberg often meets the sartorially challenged news corps. Designers Tommy Hilfiger, Oscar de la Renta, Nicole Miller and dozens of high-style mavens met the mayor to announce the creation of "Fashion's Night Out" -- a stay-open-late evening on September 10th, as the fall Fashion Week gets under way.

The mayor talked about the vibrant fashion industry and all the jobs it provides. He expressed "cautious optimism" that the economy is slowly turning around and repeated anecdotes he told the day before of store owners and restaurateurs telling him they're seeing more customers. He said he didn't want to end the sales tax exemption on clothing under $100 (which doesn't buy a lot of Carolina Herrera or Zac Posen, who were also there) but he had no choice: the city needs tax revenue to reduce its budget shortfall, and it was either tax-free socks or cops on the beat.

The mayor, for the record, wore a navy suit and stoplight-green tie. Vogue editor Anna Wintour topped a bronze and blue sheath dress with a teal cardigan. Rising star Jason Chu, a Michelle Obama favorite, similarly sported a cardigan – his, a black-on-black horizontally striped number, buttoned shut, above a white shirt and classic club tie. His Converse Jack Purcell's were echoed by a pair worn by none other than this public radio reporter.

After the fashionistas (a favorite Bloomberg word) were dismissed to go forth and power-lunch, the mayor held a separate news conference on swine flu.