Ida Unveiled at the Natural History Museum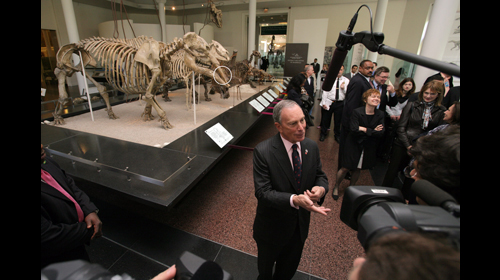 It may be small, but scientists say the remarkably complete skeleton of a 47-million-year-old creature found in Germany will provide a window into early primate evolution.
'Really, this is the first time we see teeth, hands, feet, and a skull, all this on the same specimen.'
That's paleontologist Jarn Hurum who's part of the team that reported the rare find. About the size of a small cat, the four-legged, long-tailed female animal is nicknamed Ida. Researchers say it's not a direct ancestor of monkeys and humans, but it provides a good indication of what such an ancestor may have looked like.
'We're not dealing with our grand grand grand grandmother, but perhaps with our grand grand grandaunt.'
That's paleontologist Jens Franzen. Some experts not connected with the discovery said the finding was remarkably complete but they questioned just how closely it is related to ancestors of monkeys and humans.
Ida was unveiled yesterday at the Museum of Natural History, which will feature a replica cast in a new exhibit about mammals.