More School Closures, Chancellor Meets with UFT on Swine Flu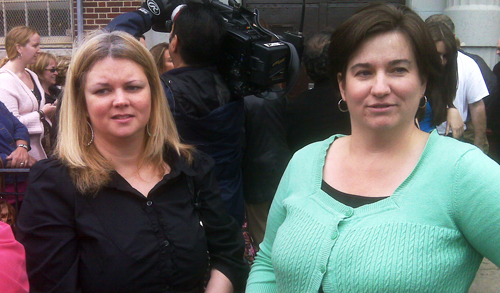 The swine flu scare has led to the closure of 16 schools in New York City, in the wake of the first local H1N1 fatality. The city's Department of Education says four more schools were closed today, and they're all in Queens: P.S. 209 and the special education school P 9 in Whitestone, P.S. 19 in Corona, and P.S. 32 in Flushing. Saint David's, a private boys' school on the Upper East Side, added itself to the list, closing today after 10 to 12 percent of its student body was absent. City Health Commissioner Thomas Friedan says the H1N1 virus is spreading rapidly, particularly in Queens. He urged people to take precautions to prevent the ongoing spread of the disease.

'Please stay home if you have fever with either cough or sore throat. Don't let you children go to school with cough or sore throat. And cover your cough and wash you hands frequently.'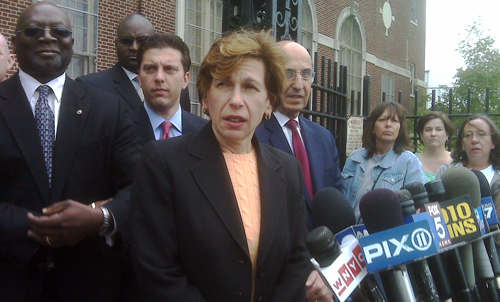 As concerns of swine flu heighten, officials from the teachers union and the health department were at I.S. 73 today in Maspeth, Queens, where 329 students out 1,720 did not come to school today. Sixteen teachers were also out for the day.

Science teacher Cathy Pagan says the school is taking precautions.
'The custodians are making sure we have paper towels and soap in every bathroom so that children can constantly be washing as well as the teaches and we're just keeping on top of the situation and letting the staff know so nobody starts freaking out on us.'
Staffers were also calling families of absent students to check whether they were truly sick or staying home as a precaution. School officials say it's important to track how many students likely do have the flu as they determine which schools need to be closed to help control the spread of the virus.
Ernest Logan, who heads the Council of School Supervisors and Administrators, says schools need to know if students are really sick, or just avoiding school as a precaution.
'If the child is just being kept home, we need them to call the school so then we'll know the reason there's a high absenteeism is because parents have kept children home. That's the critical piece for us. If we can get that message out then maybe we won't have the DOH coming out to places they don't need to.'