Is Weiner Running a Rosie Ruiz Strategy?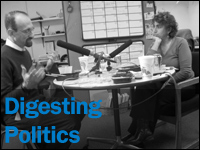 Brian Lehrer thinks...maybe. Andrea Bernstein tells how Bloomberg in 2005 made a daily drop of negative information to reporters de rigeur. And find out what Bob Hennelly's favorite sandwich is....all on the inaugural 2009 'Digesting Politics.' We're back!
About Digesting Politics: Eavesdrop on Andrea Bernstein and Brian Lehrer, two of the most political savvy minds around, as they eat lunch and break down the week's political activities.