Keys to the City for Pirate Captives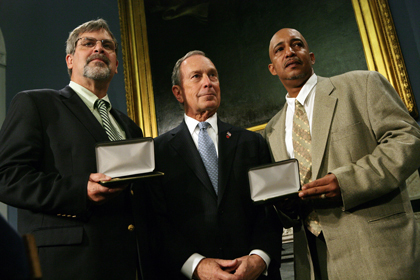 Mayor Bloomberg honored the captain of a cargo ship who was taken hostage by Somali pirates, and one of his crew members, at a ceremony at City Hall. The mayor gave Captain Richard Phillips, and William Rios, keys to the city. Rios lives in Harlem and had this to say about his experience.
'It was a serious mission. But I am a New Yorker. They wasn't going to keep me there. I am a New Yorker.'
The mayor says he was also going to give Captain Richard Phillips, and New Yorker William Rios, tickets to tonight's Mets game, but he had second thoughts, because the Mets are playing the Pittsburgh Pirates. Captain Phillips took up the baseball theme in his remarks.
'I just wanna thank Mayor Bloomberg for the honor, me being a Boston Red Sox fan, I know this took a lot out of him.'
Pirates attacked the Maersk Alabama cargo ship off the Somali coast last month. Phillips gave himself up as a hostage to save the others. Five days later Navy SEALS rescued him and killed three of the pirates. A fourth Somali is in Manhattan to face piracy charges.