With Liberty, and Sweaty Climbs for All

Lady Liberty's crown will reopen to visitors this July 4th. Closed since the terrorist attacks in 2001, because of security concerns, Secretary of the Interior Ken Salazar says, initially, 30 visitors an hour will be allowed into the crown, with 10 people at a time permitted to ascend the single, spiral staircase leading up to it.
Brooklyn Congressman Anthony Weiner campaigned hard for the statue and remembers making the climb as a child, and says there's nothing like it.
'It's one thing to be able to tap her toes, it's something entirely different to be able to go up into that cramped stairwell.'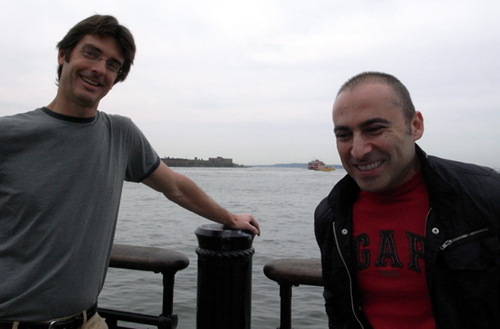 Eric Masters was in his Battery Park with his friend Sinam Ulusoy who is visiting from Turkey. Ulusoy stayed with Masters' family as an exchange student 20 years ago. He visited Lady Liberty then, and the duo were in Battery Park today to catch a glimpse again of the landmark. Masters says he is excited to hear the news and thinks its a good sign for America and New York.

'Sort of reasserting some self confidence here, to be able to open it up to the public again. That's powerful, it's a great statement.'
Parks officials say there will be two years of renovation work, including the installation of a hand rail. Visits will be limited during that time.