Main Street NYC: Brooklyn Industries on Smith Street
The last time I reported on Smith Street, home to many boutiques and restaurants and squeezed between Boerum Hill, Cobble Hill and Carroll Gardens, it was January. It was cold. And store managers complained that there was very little foot traffic. This time, I spent some time with one of the street's anchor retailers, $14 million clothing chain Brooklyn Industries, to investigate one company's adaptations to the recession.
Temperatures are Rising, But What About Sales? May 7, 2009
by Lisa Chow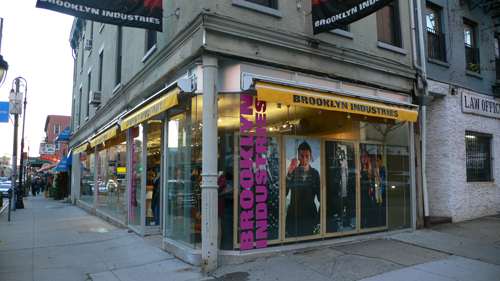 Seeing a big drop in sales, Brooklyn Industries has cut factory orders, laid off three workers, and co-founders, couple Funk and Vahap Avsar, took a $1 salary last quarter.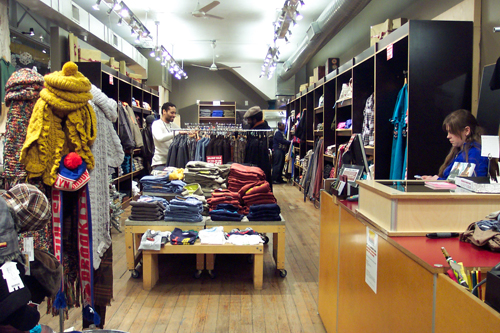 Brooklyn Industries manufactures globally and prints its T-shirts locally in Red Hook. Interestingly, the U.S. consumer spending slump has presented the company with an opportunity: the ability to make better clothes closer to home. Big retailers, including The Gap, The Limited, and Abercrombie and Fitch, are scaling back their orders. In turn, factories in Peru, known for high-quality cotton, are scrambling to find new business and reducing their minimum order requirements, giving Brooklyn Industries a chance to shift some of its manufacturing from China to Peru. This week, Funk and her production manager Lisa Lazarus are in Lima, Peru, touring factories.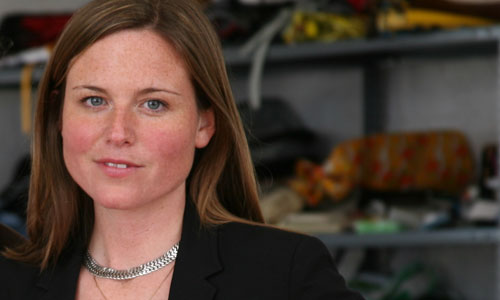 Funk, 38, started her career as a photographer. To cut company expenses, she's now doing the photo shoots for her Brooklyn Industries stores' poster displays.
Funk, her husband, and two sons lived above the Smith Street store from 2005 to 2007. The space came with the store, as part of the lease. The family now lives in Prospect Heights but is considering moving back to that space on Smith Street. It's just one more saving-money strategy.
Here's Funk describing why she loves Smith Street.
Funk sat down with me twice for this story.