NYC Lab Strains to Identify Flu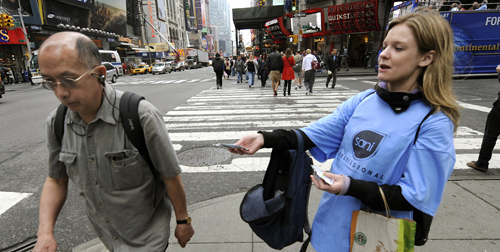 The City Health Lab opened its doors Sunday to reporters - a few of us, anyway - to show how they identify H1N1 flu. Currently, only the Centers for Disease Control and Prevention can verify cases of swine flu for sure, but the local tests can offer a pretty good guess by process of elimination. That's why we've all heard reports of 'probable' cases that await CDC confirmation.
In the coming days, this will change. The local health lab here will add to its testing capacity, care of the CDC. The CDC will be sharing its strain-specific chemical kit with New York and several advanced labs around the country. Technicians will no longer need to send specimens down to Atlanta by courier. The new tests will mechanically be the same as what the local lab now does, except, they'll have the CDC reagents to plug in.
They walked us through how it will all happen, showing us lab technicians at work - and only letting us know afterward that these people weren't actually testing anything. In one room after another, technicians were fully gowned, gloved and masked and busy reaching into what's called a bio-safety cabinet - a well-lit box with a high-tech sneeze-guard, that we only saw their hands disappear into from our position out in the hallway. They seemed to be manipulating test tubes and pipettes. The bio-safety cabinet has a pressurized air shield that, theoretically, doesn't let any microbes or anything else out. In this case, there was zero risk to the technicians; they weren't even handling salt water. It was strictly a demonstration for the public - mostly via TV - of what flu strain testing looks like.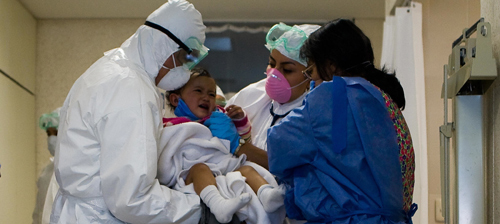 The basics: extremely sick patients, in hospitals, clinics or doctors offices, get samples of mucus and other fluids collected by long, flexible swabs, from deep in their nose. Those samples get sent to the Health Department Lab, in Kips Bay, near Bellevue and NYU hospitals. The samples get subjected to two basic tests: a rapid test and a 5-and-a-half hour test. The rapid one can determine if it's Influenza A, Influenza B or no influenza at all (H1N1 is a sub-type of Influenza A). That test comes back within half an hour, and though it's only preliminary, its results help let Health Department teams mobilize, without waiting for the more definitive test to run through.
That longer test is called a PCR (polymerase chain reaction) test. It figures out the likely sequence of the viral genetic material; that identifies the virus sub-type - or, in this case, make an educated guess, based on probability. For Influenza, the genetic material they're looking at is RNA, a simpler version of the DNA that humans have (we also have RNA, but it doesn't serve the same genetic function). In the PCR test, the RNA is combined in test tubes with reagents (again: soon to be new-and-improved, directly from CDC). The test tubes - which actually look more like small cartridges - are placed a series of slots in the top of small boxes about the size of toaster ovens, and are heated and cooled until the RNA is sufficiently separated. If it has the defining sequence, it turns the chemical a certain color. The color-change isn't visible to the naked eye. It's monitored by a laser that 'reads' the dye and registers the results on a computer. Out come a series of numbers plotted as a curve. The shape of the curve suggests the likelihood that this viral RNA belongs to H1N1.
Starting this week, if all goes according to plan, those probabilities will get a lot more certain - without samples traveling to Atlanta. Quicker results should mean quicker responses. That should mean better tracking and containment of the spread of swine flu.
So far the new H1N1 flu has been mild. By all accounts, it's milder than seasonal flu, which strikes millions of people around the country each year, killing tens of thousands. Swine flu could do this, too, and not be any scarier than seasonal flu. The concern will be if swine flu behaves in unpredictable ways, is especially virulent and deadly, and resists treatment from anti-viral drugs. The more closely it's tracked, the more evident the trajectory will be, whether mild or severe.