Charter Revision Commission Inches Closer to Answers on Ballot Questions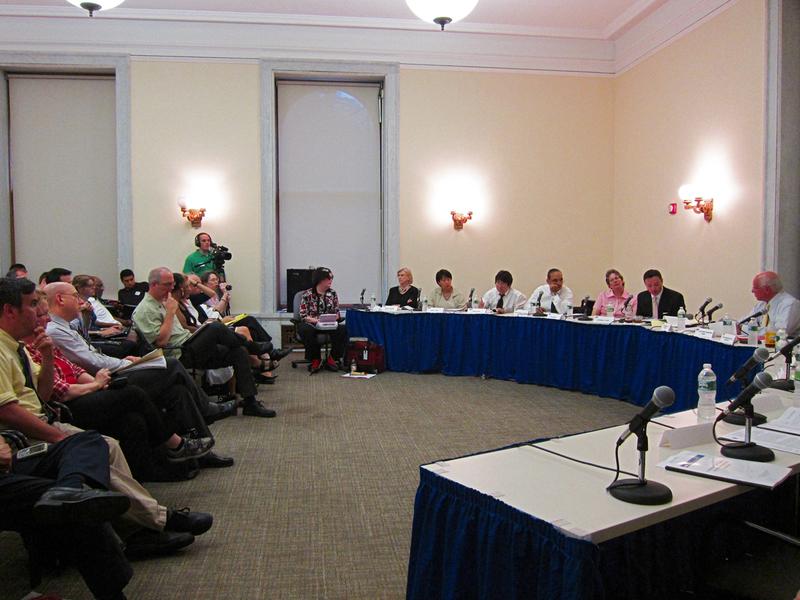 Come November, voters in New York City will likely get a chance to weigh in on the issue of term limits.
Members of the Charter Revision Commission, appointed by Mayor Bloomberg after his third-term victory, met in a humid, crowded room near City Hall on Monday night to discuss the preliminary report released last Friday by the commission's staff.
Several members of the commission, which was set up by the mayor in March, said more time is needed to debate the term-limit question.
"We've done a lot since March 3, but March 3 -- I mean, we're only talking about a couple of months ago -- and we've had to digest very complicated opinions that have been hobbled together from the public to deliberate and discuss," said commission member Bishop Mitchell Taylor.
But Chairman Matthew Goldstein urged the members to focus on the task at hand.
"Let's not bite off more than we can chew," said Goldstein. "Looking at this in a much more expansive way, I think, is wrong. We just don't have the time."
The preliminary report, culled from expert and public testimonies from meetings and hearings in all five boroughs, outlined two possible ballot questions regarding term limits: whether to roll back the current three-term limit to two, and whether to keep the three-term limit for City Council members but restrict the mayor, public advocate, comptroller and borough presidents to a two-term limit. The report also recommended that the commission consider a Charter amendment that would prohibit incumbent lawmakers from changing the term limits for their own gain.
Despite concerns of some commission members that they felt the process was being rushed, most agreed that voters should have a say. Commission member and former City Council member Stephen Fiala said putting the question of term limits on the ballot was the way to restore the public's trust.
"Placing upon the ballot a question that says 'shall we keep the existing three-term structure or return it to two terms,' that's something I can live with," said Fiala.
But panel member Carlo Scissura said maybe the charter referendum should go even further.
"Is it time that New York City residents have an opportunity to vote to not have term limits?" Scissura asked.
The group also discussed issues of public integrity, government efficiencies, and more. Several commission members questioned why using instant runoff voting as a way to increase voter turnout and lower costs was given so much weight in the preliminary report, since the issue came up only once in public hearings.
The panel will hear next week from The Citizens Union on so-called nonpartisan elections as a way to increase voter turnout. The good government group has recently reversed its stance on the issue and is now in favor of open primaries. Five previous commissions had considered the issue, which was most recently rejected by voters in 2003.
The commission will continue to hold public hearings over the next few weeks. It must decide by early September which issues to put before voters in November.