Hard Questions for Public Advocate Candidates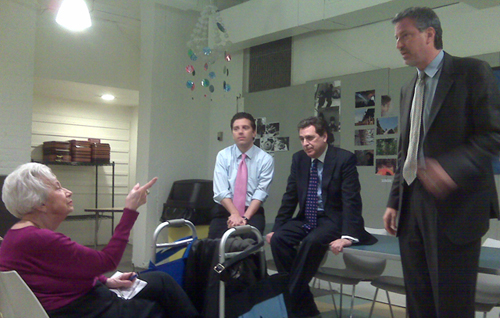 The four candidates for city public advocate are making the rounds at small town-hall-style meetings. It was a free-wheeling event last night at the Elizabeth Irwin High School in the Village. Civil rights attorney Norman Seigel was the first to arrive and the last to leave. He nearly got the job last election, but lost to current public advocate Betsy Gotbaum in a runoff. He wants to decentralize the office and train volunteers to work throughout the city.



Brooklyn Councilman Bill de Blasio is focused on securing affordable housing. And Queens Councilman Eric Gioia says his campaign is so grassroots, he'll go to voters houses and answer their questions if they get ten people together, which is about half the size of this audience.

The room is so small, people shout out questions, including 88-year-old Rita Resnick who asks: 'What do you do when you've lived 20 years longer than you thought?' Candidate Mark Green arrived last, using the remaining minutes of the forum to campaign for his old job.