"One Million People Against the MTA Fare Hike"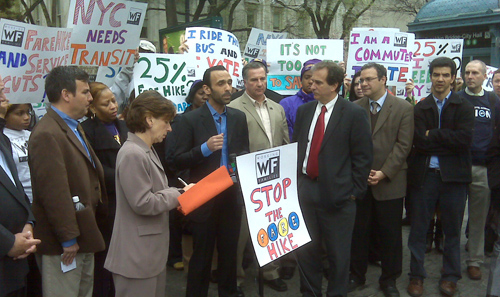 The uproar over the MTA's funding shortfall has spread to the Internet. The Facebook group, 'One Million People Against the NYC MTA Fare Hike' was launched about one month ago. Actor Amir Darvish says he and four friends decided to create the cyber-group one night while they were sitting around complaining.
'Within a few hours, we had over 1,000 people. Within two weeks, we were up to 75,000 members and growing.'
Darivsh spoke at a rally held by the Working Families Party Wednesday to push state lawmakers to agree upon a bailout plan for the MTA to prevent 25 percent fare hikes. The Facebook group is organizing its own rally next Tuesday in Union Square with transportation advocates. The fare hikes are scheduled to go into effect May 31st.