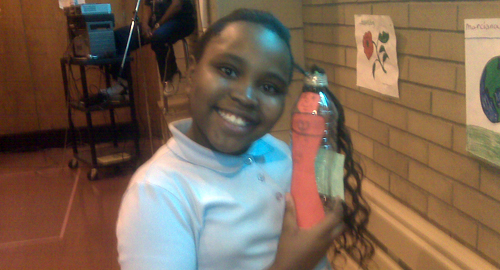 It was a birthday party for planet Earth. That's how students at P.S. 208 in Harlem celebrated Earth Day. The 200 elementary students had a party in their gymnasium with a cake and snacks in recyclable bags. They also made party favors out of recyclable materials such as cardboard, empty glue sticks, and plastic water bottles.

Nine-year-old Katrina Freeman made a doll out of a plastic water bottle. She attached some hair and a dress made of paper. She says she tries not to use water bottles any more.

FREEMAN: My dad, he still buys them, but I tell him every single day when he buys them, you cannot buy those! They're bad, you cannot do that!

P.S. 208 Principal Susan Green says the students use stainless steel water bottles that were donated to her school. They also started an environmental club.

GREEN: They're being conscientious about turning lights off, and even speaking to teachers about it. In the classroom, they're holding one another accountable about separating trash from papers as far as recycle bin versus trash cans are concerned.

The students are also helping a rain forest project by collecting spare change.