Mayor Launches 'NYC Service'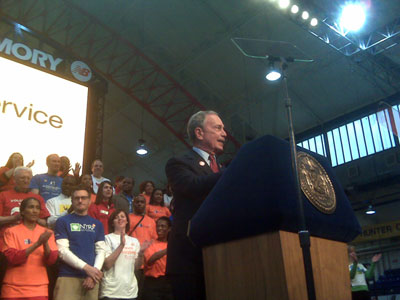 In a response to President Obama's call for a new commitment to civic engagement, Mayor Bloomberg launched 'NYC Service' at a high spirited rally geared toward young people in Washington Heights. The citywide initiative is designed to make it easier for New Yorkers of all ages to volunteer their time.
Close to 2,000 people filled the Armory Track and Field Foundation to cheer the myriad of well established non-profits that already rely on thousands of volunteers.
In addition to helping connect New Yorkers to volunteering, the initiative is making community service a mandatory part of the city's public school curriculum.