Timothy Dolan: Fan of NYC Baseball, Resisting Modern Mores
Monday, April 13, 2009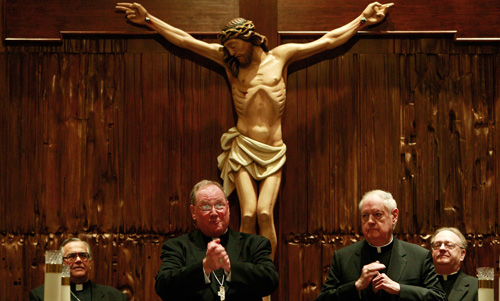 Incoming Archbishop Timothy Dolan took a break from unpacking and preparing sermons, to talk about baseball, theology and his first impressions of New York City.
Dolan's installation as Cardinal Edward Egan's successor begins tomorrow night and continues on Wednesday. Dolan said Thursday would bring him to a Yankees game, Friday, to a Mets game, and some time within his first week would be a trip to the World Trade Center site. Dolan said he still considers himself a parish priest -- except that now he has 2.5 million Catholics in his parish. Standing in front of St. Patrick's Cathedral, he said he would tell them that they should be 'above time' -- resisting contemporary social trends and morality, including the acceptance of abortion rights and homosexual equality.
'We Catholics just need to stand up and say we're above the times -- we're time-LESS in our beliefs, and in our values, and in our ethics, and in our morality.'
More in:
Fred Mogul, Reporter, WNYC News

Fred Mogul has been covering healthcare and medicine for WNYC since 2002.