Eliot Spitzer on Today: Confronting His Gremlins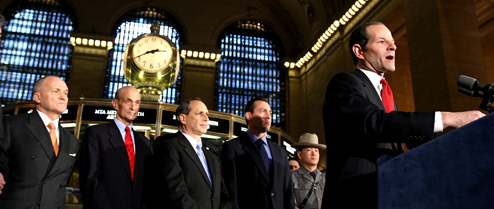 Former governor Eliot Spitzer shed new light on the prostitution scandal that brought him down. Appearing in his first live television interview this morning, on NBC's Today Show, he was asked by host Matt Lauer how long his involvement with prostitutes had been going on.

"Not frequently, not long in the grand context of my life. It was an egregious violation of behavior that I fell into for many reasons but none of them an excuse or justifiable.'
Lauer asked him if he ever thought about being caught.

"It crossed my mind, but like many things in life, you ignore the obvious at a certain moment because you simply don't want to confront it.'
Spitzer says he has 'tried to address and confront' what he called his 'gremlins' and he also expressed regret that he is not in a position where he can do something about Wall Street's collapse.