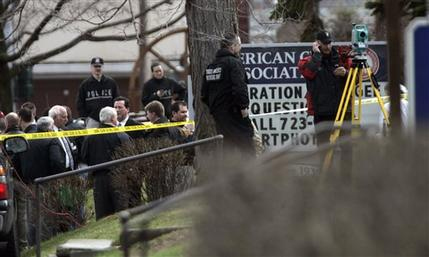 Police chief of Binghampton Joe Zikuski says 14 people are dead after a shooting at the American Civic Association. Zikuski says they believe the man who entered an immigration services center and opened fire is among the dead. He was found with a satchel of ammunition around his neck.



Officials say the gunman opened fire on a citizenship class at the immigration services center. The gunman entered the American Civic Association around 10:30 this morning, after blocking the building's back entrance with his car. Zikuski says the killer shot two receptionists, killing one. The other pretended to be dead, and later called 911.
'The lone survivor as far as we know, she's the only one that got a look at him. but once again we don't know that for sure. We have 37 people to talk to and 26 people took refuge in the boiler room in the basement.'
Governor Paterson was in Binghampton to express his outrage over what he called a 'senseless shooting'. He said the American dream for the students of the citizenship class may have been thwarted.
'But there still is an American dream and all of us who are Americans, will try to heal this very very deep wound in the city of Binghamton and we will come around the people here and the leaders here and provide them with any assistance that we can.'
Governor Paterson added that it is the latest in a series of shocking shootings nationwide.
'On March 11th in Alabama, a man killed nine people, four of them members of his family. On March 22, in Oakland CA, four police officers were slain on the same day by a suspect. And now here in Binghampton, we probably have the worst tragedy and senseless crime in the history of this city.'