Main Street NYC: The Bowery, Manhattan - April Update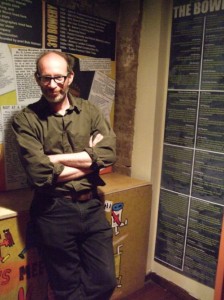 WNYC's Main Street Project is tracking streets across the city and in New Jersey. Last month, we gave you the first snapshot of the Bowery -- once New York's Skid Row, which now teeters between commericialization and gentrification. But as several listeners noted, the street's legacy runs deep .
That's the subject of a new exhibit opening tonight. It's nestled in an alcove of the Bowery Poetry Club, and includes assorted facts and figures about the history of the Bowery. There's not a lot to it yet, but its organizers see it evolving into something grander than a series of posters in a doorway. They're hoping the so-called 'East Village Visitors Center' develops into a community center and museum on par with the lower east side's Tenement Museum.
The Center is the brainchild of the East Village History Project, whose board includes both local historians, activists and community leaders. Co-founder Rob Hollander says the Bowery plays a crucial role in the history of the East Village and Manhattan at large.
'The Bowery was the main thoroughfare in New York for a hundred years. Before Broadway became an important thoroughfare, the Bowery was the theatre district. And the theatre district was much more important to New York than it is today. It was working class entertainment. The Bowery theatre held 3,500 people. That's a huge gathering place for working class people. That's actually saw one another, to interact with with each other and the theatre experience was nothing like what it is today. It was more like a riot. You went there to be entertained, but you also went there to respond to the entertainment you saw. People would actually jump on the stage sometimes and dance with the performers. It was interactive entertainment back then.'
Hollander says they want the visitors center to incorporate the neighborhood's immigrant history going back to the German and Jewish residents, along with the anarchists, labor organizers, Beat generation, hippies and the overall counter culture that emanated from the neighborhood.
The East Village Visitor's Center will hold its opening party tonight starting at 6 p.m. at the Bowery Poetry Club.
In other follow up: the trailer that was sitting in front of the construction site at 250 Bowery (a.k.a. the huge hole) is gone. The site's building permits expired on April 1.