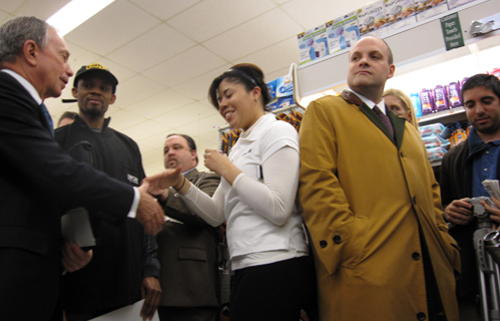 Mayoral candidate Michael Bloomberg got his first endorsement from a union today at an event held inside a Harlem supermarket. The grocery workers union, UFCW Local 1500, didn't endorse anyone in 2005. But its spokesman, Patrick Purcell, says the mayor won their support by pushing for more supermarkets where there aren't many.
PURCELL: Since 2005, we've had the city planning study that was done, we've gotten heavily involved in food policy. The administration has dived in. To us, it's a real commitment to bringing supermarkets into this city.
The union has 23,000 local members, including workers from Fairway, Pathmark, D'Agastinos and Key Food. Asked the last time he shopped at a supermarket, Bloomberg said it was about a month ago at a Gourmet Garage - not a union store. Purcell said he would 'have to do a better job of educating the mayor' on which stores are unionized.