Today in History: Lindbergh Ransom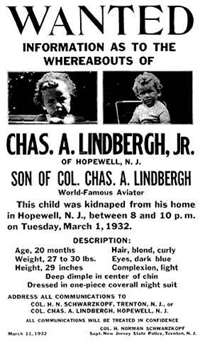 On April 2, 1932, aviator Charles Lindbergh paid a $50,000 ransom for his infant son Charles Lindbergh Junior. Kidnappers said the baby was in a boat off the Massachusetts coast. Neither the boat or child was found, until a later search revealed the infant near the Lindbergh home. Charles Lindbergh Jr. had been killed the night of the kidnapping, March 1. The event was a national sensation and inspired this popular song by Roy O'Connor.
Baby fair, curly hair, little baby's fingers, his soul, from this earth has flown. Though he is gone, he lives on with the angel singers...the angels way up there, took him from way down here, life is drear since they took him away. Little lad, heart so sad, though he is in heaven's care. We'll pray we'll meet him some day.
Melotone Records, 1932
Thanks to WNYC Archivist Andy Lanset