Staten Island Big Winner in City Stim Funds; Tracking Tool Released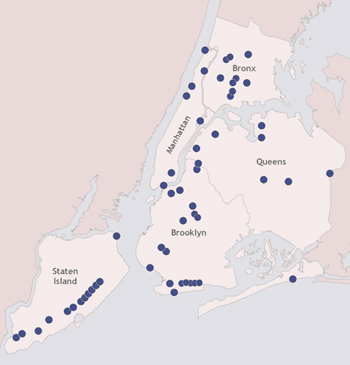 The city released its list of transportation stimulus projects yesterday, and Staten Island is walking away with the lion's share of funding -- $175 million out of $261 million total. But the ramps to the Brooklyn Bridge will also get nearly $50 million in funding. Other projects include a greenway in the South Bronx and a Long Island City plaza. Note these projects don't include other projects in NYC that the state controls the funding for -- including mass transit.

The city also released a detailed breakdown of how the projects will be funded (stimulus dollars vs. regular city capital funds) that gives a pretty interesting window into how stimulus dollars help move projects along -- by moving stimulus money into ready-to-go projects, the city gets to hang on to funds for other projects that might not be ready now. So the $50 million in bridge funds will be saved for some other projects down the road. The city also unveiled a pretty cool tool -- the stimulus tracker. one of the most detailed breakdowns of spending I've seen on any state site.