Final Meeting on Mayoral Control of Schools
Hundreds of people are at a public school in Brooklyn testifying before state lawmakers on whether the mayor of New York should keep control of the city's schools.

Patricia Connelly and Ellen Raider of the parent commission think the mayor has too much power over school zoning and siting issues, and doesn't listen to communities.
Mayor Bloomberg is hoping the state will re-authorize the law it approved years ago before it expires in June. But as WNYC's Beth Fertig reports, there are several other ideas out there.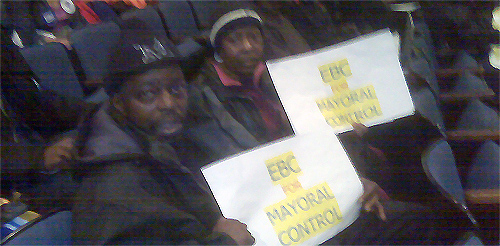 Mark and Rochelle Sanders and other members of East Brooklyn congregations hold signs in support of mayoral control because they think their local schools have improved.