Natasha Richardson Dies at 45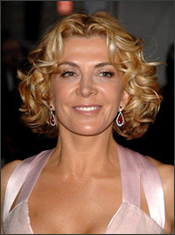 The actress Natasha Richardson, whose career highlights included the film 'Patty Hearst' and a Tony-winning performance in a stage revival of 'Cabaret,' has died.
A statement issued Wednesday evening by a publicist for Richardson's husband, the actor Liam Neeson, described Neeson and the family as 'shocked and devastated' and asked for privacy.
Richardson was a guest on WNYC's Leonard Lopate show in 1993, when she was appearing on Broadway in a production of Eugene O'Neill's 'Anna Christie.' She told Leonard that her upbringing helped prepare her for her career:
RICHARDSON: When my father was a director, I learned what a director expects from an actor and a level of professionalism that sort of put me ahead of the game, because most people have to learn that when they start working professionally and I had observed that for a long time.
Listen to the entire 1993 interview:
Richardson died at Lenox Hill hospital in Manhattan, where she was moved after initially being hospitalized in Montreal for a head injury sustained in a skiing accident.
Richardson came from stage and movie royalty -- her father was the late film director Tony Richardson, and her mother was the Oscar-winning actress Vanessa Redgrave, who was seen arriving at Lenox Hill this afternoon.