Everyone may be Irish today, but given the tough economic times some are wondering if its really a good time to be celebrating. Before setting out on the St. Patrick's Day parade route, Mayor Bloomberg said the answer was simple: yes, more than ever.
'People need a pick-me-up,' says Bloomberg. 'People need to know that we can get through this together. All we need to do is treat everybody today like their Irish, next time like their Italian, the other like they're Hindus.'

It's a parade of firsts and lasts for St. Patrick's Day in New York. Warren Levinson reports.


Cardinal Edward Egan has marched in his final Saint Patrick's Day parade as leader of the Archdiocese of New York. Egan is retiring next month, but he says he isn't going anywhere.
Egan will be replaced by another Irishman. Milwaukee Archbishop Timothy Dolan takes over as spiritual leader for some 2.5 million parishoners in the Archdiocese on April 15th.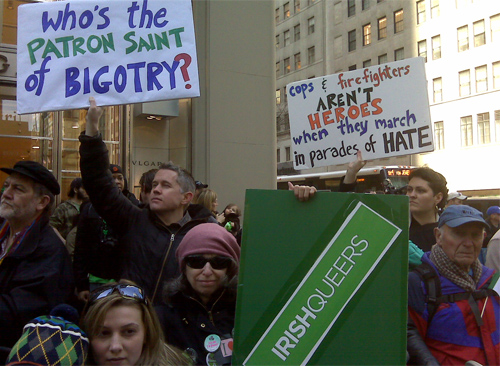 About two dozen protesters along the parade route held signs denouncing the policy to exclude gay and lesbian groups from the parade. One of them was Matthew Arnold of Brooklyn.


A spokesperson for Mayor Bloomberg says the mayor doesn't agree with the parade organizers, but the issue has been settled in court. The first openly gay speaker of the City Counci,l Christine Quinn, hasn't marched in the parade for three years because of the policy against any indication of gay pride. Quinn plans to march instead in Washington, DC's Saint Patrick's Day parade tonight - at the invitation of President Obama.