Tempers Flare at Hearing on Mayoral Control of Schools
Sparks flew in the Bronx today at the State Assembly Education Committee's hearing on mayoral control of the public schools.
With the law granting Mayor Bloomberg full control over the school system of more than a million students set to expire in June, assembly members peppered Department of Education officials with questions - specifically about programs for English Language Learners. It was an especially relevant issue as the Bronx is now more than 50 percent Hispanic, according to census figures.
Maria Santos, the Education Department's executive director of English Language Learners, testified that there are now more programs for these students. She said the number of English Language Learners performing at the lowest levels has decreased in the Bloomberg years and that the city has created more dual language programs - though she conceded the graduation statistics were less clear. But Assemblywoman Carmen Arroyo called her a 'liar' (in Spanish and English) and proposed a collaboration with a University in Puerto Rico to prepare more teachers for working with English Language Learners. And parents and community members in the auditorium at Lehman college erupted with boos as Santos testified.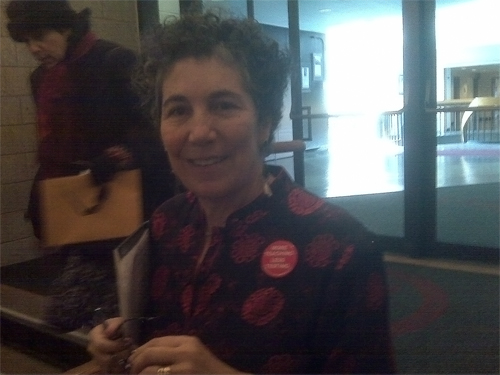 Assemblyman Daniel O'Donnell also asked why a school on the Upper West Side was being replaced by a charter school that has no experience with teaching English Language Learners. Deputy Chancellor Christopher Cerf said he would have to look into the matter, but said charter schools overall are serving many English Language Learners and have academic achievements that surpass those of schools with comparable populations. Cerf's comments were cheered by the dozens of charter school parents in the room, who support mayoral control. But opponents of mayoral control gave the panel Bronx cheers. Assemblyman Mark Weprin muttered a word of advice to the the Dept of Ed representatives: 'Like A-Rod you gotta ignore the crowd.'