BL Show Teams With Fred Mogul To Investigate Insurance Costs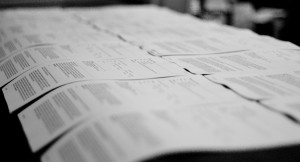 [caption id='attachment_1877' align='alignright' width='250' caption=''paperwork' from neilsphotoalbum on flickr']
One of the underlying goals of the Brian Lehrer Show's Uncommon Economic Indicators project is not just to gather interesting stories, but to try and notice patterns, connect listeners, and possibly affect some change for the better. We recently did a segment inspired by a UEI submission that read, in part:


I work for a small internet company in NYC. We have employees all across the country - this month we have to renew health insurance plan. The company I work for contributes an annual sum to each employee for health care - they raised their sum as much as possible - 20%. (You can read the whole post here.)

Jumping off of this post, we've teamed with WNYC reporter Fred Mogul to look in to whether this is a widespread phenomenon. We launched a comments thread and did an on-air call for small business owners to tell us how much their rates have increased and the effect it's having on their employees. You can see the comments thread here. and listen to the audio below.



Fred will be looking at the submissions, and we'll see if this uncommon indicator reflects a larger trend that deserves a little more media investigation. And, of course, if you're a small business owner, share you story here. And the rest of you, keep posting your stories to the main UEI page!