Spitzer Shocker Was One Year Ago Today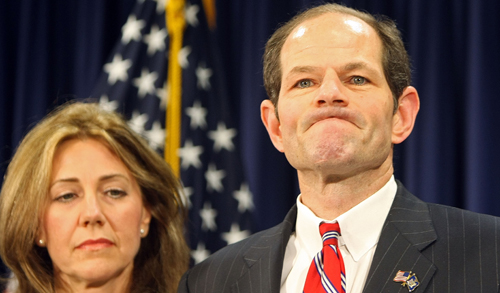 One year ago today, I was sitting in the dingy confines of CR-2, the primary on air control room at WNYC's old studios on Centre Street. It had been a quiet afternoon so far and my shift as the midday newscaster was nearly over. Then, a little after 2pm, the NY Times broke the news that Governor Eliot Spitzer, the Sherriff of Wall Street, was involved in a prostitution ring. No more quiet afternoon.
A little unsure of how exactly to drop this bomb on our unsuspecting audience, I broke in to To The Point , explained what little we knew and said there was certainly much more to come on this story. Soon, WNYC's Brian Lehrer took over our special coverage and we scrambled to support him. I'm fairly certain that the New York Lieutenant Governor's website had never seen such traffic as it did that Monday afternoon. The website crawled along as we all tried to learn more about David Paterson (former State Senator from Harlem, prominent political family, blind, only one 'T' in his last name -- this one took us a while to get right).
The speed with which this story broke was astounding. Governor Spitzer spoke to 'briefly address a private matter.' Without saying what he was apologizing for, Spitzer said he had violated his obligation to his family and his -- or any -- sense of right and wrong:
Spitzer announced his resignation two days later, saying 'as human beings, our greatest glory consists not in never falling, but in rising every time we fall.'
This morning, Brian Lehrer discussed why Spitzer never faced criminal charges.
The latest from the former governor? A real estate deal in Washington DC.
Where were you one year ago when you heard the news? Add a coment.