Klein: Rare NYC Schools Closure, New Schools Opening
Schools Chancellor Joel Klein says he and other city officials waited until 5:40 this morning to call a snow day because they were waiting for the latest updates on wind and road conditions. It's the first time city schools have been shut down in five years. Klein told WNYC's Brian Lehrer that New York City doesn't call snow days as often as suburban districts partly because the city has mass transit.

'A lot of suburbs have almost everybody riding buses to and from schools or parents in cars, we have a lot of people walking to schools,' says Klein. 'So, in general, where it's sensible and prudent we try to keep them open.'

Klein also acknowledged many city students come from families where both parents are working, so he prefers to keep schools open whenever possible.

Mayor Bloomberg had little sympathy for those who did not get the message on the closures or did not have the good sense to call 3-1-1.

Meanwhile, state math tests were supposed to start tomorrow but the chancellor's office says it's pushing them back a day because schools are closed today. The deadline for families to apply for kindergarten was also today but will be pushed to Friday.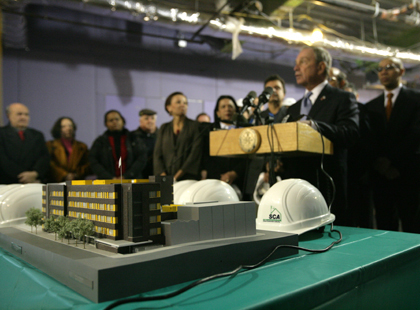 The mayor and Schools Chancellor Joel Klein were in Sunset Park yesterday at one of 42 new schools that will be open this fall. According to Klein, the schools include a new Cinema School in the Bronx and other schools for struggling students as well as high achievers.
'Instead of looking for kids who fit the needs of the school system, what it used to be, we have now designed a school system that fits the needs of the kids.'
Klein says with the new openings the city will have opened 333 new schools under the Bloomberg administration. Ninety percent of the students at the new secondary schools are black or Hispanic, while black and Hispanic students make up about 71 percent of students citywide.