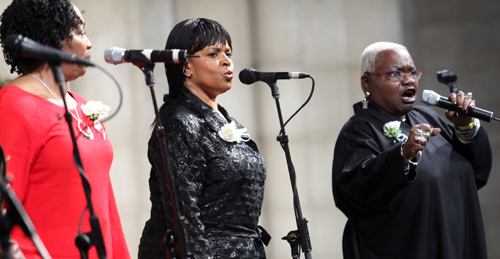 More than a thousand fans, admirers and loved ones packed Riverside Church last night to celebrate the life of folk singer and civil rights pioneer Odetta. The iconic singer was remembered in words and song in a service that lasted several hours. She died last December in Manhattan, at the age of 77.
Her old friend, writer Dr. Maya Angelou said Odetta gave the 'old songs' back to people in a new way, and the way she lived her life inspired her to be more courageous:
'I've tried to tell the truth in my books, in the way I live my life, and much of that, the credit can be laid at the foot of that sweet black woman who could take the rafters off the windows.'
Folk singers Pete Seeger, Oscar Brand, and Peter Yarrow were among the many musicians who performed musical tributes to Odetta.
Singer, songwriter Lizz Wright: