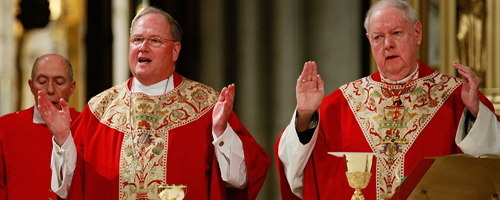 Timothy Dolan, the newly appointed leader of the New York Archdiocese, could be here a while. He's 59, and the average tenure of cardinals in that position -- widely considered the preeminent one in American Catholicism -- is around 17 years (not including outgoing Cardinal Edward Egan, whose nine-year tenure is by far the briefest in almost two centuries).

Dolan, the former archbishop of Milwaukee, continues the tradition of an Irish-American presiding over the altar at St. Patrick's Cathedral. But as Catholic insider Rocco Palmo points out, Dolan is the first non-New Yorker to take over since Cardinal Francis Spellman, a Bostonian and friend of Pope Pius XII, in the 1930s.

Dolan is considered gregarious, media savvy and administratively powerful, as you would expect. Milwaukee Journal Sentinel reporter Annysa Johnson tells WNYC's Soterios Johnson about Dolan's record in Milwaukee and suggests some things area Catholics can expect from him.