Morning News by the Numbers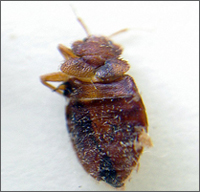 9,200 - That's how many bedbug complaints were filed through the city's 3-1-1 hotline last year. That's a 34 percent jump over the year before.

24.6 billion - How many dollars New York State stands to get in federal stimulus money over the next two years. Governor Paterson says, even so the service and pay cuts he's pushing are still necessary.
Seven - The number of banks police say the same man has hit in a six-week crime spree. The latest incident happened last Tuesday at a bank near Madison Avenue and 34th Street.
$300 billion - That's the value of tax cuts in the stimulus package President Obama signs today.
$195 million - The size of the National Endowment for the Arts budget, after the stimulus infusion of $50 million. New York's Department of Cultural Affairs has a $149 million budget.
300 - The number of stores Starbucks says it will close this year, as a result of the recession.
And...14 - That's how many Polk Awards were given out at Long Island University last night. It's considered among the top prizes in U-S journalism. Among the winners were 'This American Life' producer Alex Blumberg and NPR's Adam Davidson. Their story, 'The Giant Pool of Money' helped explain the complex subprime mortgage crisis.