Councilman Eric Gioia Makes It to Jeopardy!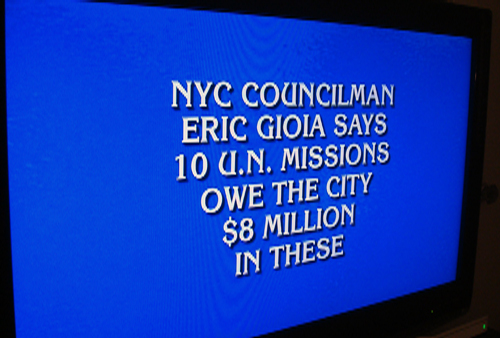 Could there be an aural pleasure greater than hearing Alex Trebek say your name? Eric Gioia, councilman from Queens, is likely asking himself just that, having attained Jeopardy! immortality (Giopardy?) during yesterday's show. The question--actually, the answer--was 'NYC Councilman Eric Gioia says 10 U.N. Missions owe $8 million in these.'
The answer--more like the question, really--would be something like 'What are unpaid parking tickets, Alex?' This was during the all-important Double Jeopardy round - $1200. Sources tell us the contestant got it right, and didn't confuse it with a similar issue: countries that owe NYC millions in back taxes. Those included the Philippines, which just coughed up $9 million in back taxes.
Gioia, by the way, is running for public advocate.