Liyana's Music from Zimbabwe
This is Liyana performing their song "Never Give Up" at Teachers College-Columbia University on January 27th. The band's eight members all have physical disabilities. One is hearing impaired and four rely on wheelchairs.
People with disabilities are often shunned in Zimbabwe. Singer Marvelous Mbulo says some people believe they are under the influence of witchcraft. Mbulo has muscular dystrophy. He's 23 years old and sings backup. Lead singer Prudence Mabhena, who's 21, says her parents wanted nothing to do with her when she was born with arthrogryphosis, which withers the joints. She was raised by a grandmother and says doctors removed three of her limbs to ease her discomfort. Her remaining left arm is twisted, but she is able to manage her motorized wheelchair. Mabhena started singing when she was four years old with her grandmother. Her musical idol is the late South African singer and civil rights activist Miriam Makeba, and her voice is often compared to Makeba's. Mabhena also loves the American pop stars Alicia Keyes and Beyonce.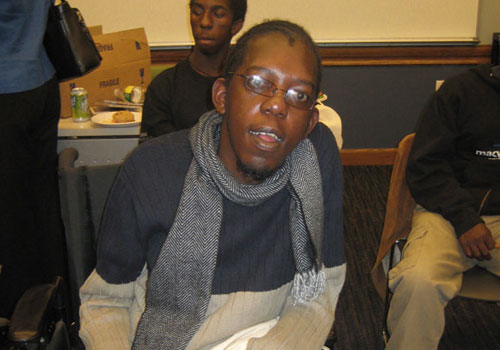 The band members met in a music class at King George VI school in Bulawayo, in Southern Zimbabwe. It's the only boarding school in the country for primary and secondary students with disabilities. In 2006, students selected eight of their most talented classmates to take part in a regional music competition. The resulting band, Liyana, went on to win the Crossroads Africa Inter-Regional Music Festival in Mozambique and toured Sweden, the Netherlands and Belgium. Despite their international acclaim, however, they weren't able to get on 'African Idol' because Mburo says the show refused to accept people with wheelchairs. He says Prudence Mabhena actually made it to the finalists but the judge said 'we cannot take you because we realized.. you cannot dance.'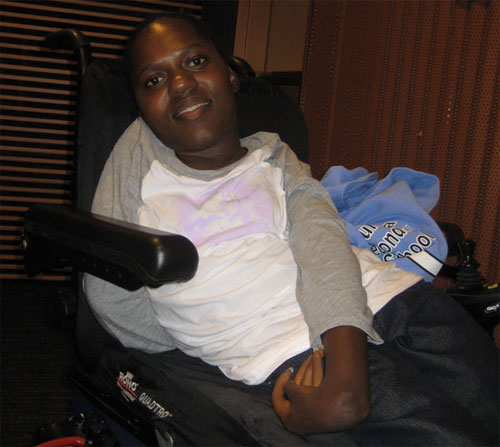 All of the band members have now graduated but the King George VI school is letting them stay on the campus while they pursue their musical ambitions. The school's director, Inez Hussey, says there are no other options for them because people with disabilities have such a difficult time living and working in Zimbabwe. And the country's political, fiscal and health crises have made it an especially unforgiving place for them. Her school relies on outside donors to provide food, medicine, and equipment. She describes it as a safe haven from the world outside.
The American tour was funded by the PG Family Foundation, after a relative with Zimbabwean roots saw Liyana perform in Bulawayo. The foundation got the John Lennon Educational Tour Bus to help the band record a few tracks. They played at Stanford University, Disneyland, and MacWorld. Israeli singer David Broza joined them for the show at Teachers College on January 27th. A few hundred students and teachers from local schools attended the band's two concerts that day. They were supposed to perform with some Harlem high school students but they ran out of time. The shows were webcast to New York City public schools and the band stayed to record another webcast for the Mt. Pleasant Blythdale school for disabled pupils in Valhalla, where they answered questions that were emailed by students. The Mt. Pleasant kids wanted to know their favorite American foods (Burger King, KFC, and turkey sandwiches) and how they cope with their disabilities. 'I improvise,' said singer and keyboardist Tapiwa Nyengara. 'We all improvise one way or another. You find something to do and if sometimes if your improvisation does not work, deal with it as we say.' But he said there are no wheelchair accessible roads and public facilities in Zimbabwe.
"LIFE" with David Broza

Liyana recorded one album in Bulawayo but it was never distributed. Much of Zimbabwe's music community has left the battered country. The band is considering ways of making the first available through the Internet and hopes to record another album when they return to Zimbabwe. Mbulo says he has lots of ideas for a 'cool album.' But the school's director, Inez Hussey, says they'll need to find ways of leaving Zimbabwe to make money and promote their work.
Though she was told she couldn't perform on 'African Idol' because she can't dance, Mabhena says she actually choreographed Liyana's first music video. And to Americans with disabilities who think they're having a rough time, Mabhena and her bandmates say their music is living proof that 'the sky's the limit.'
The band's website can be found at www.liyanatour.com. They've also developed teaching materials to be used in schools, for students to learn about their music and their story.
The band members are Prudence Mabhena, Tapiwa Nyengera, Energy Maburutse, Honest Mupatse, Marvelous Mbulo, Vusani Vuma, Goodwell Nzou, and Farai Mabhande.