Governor Paterson Picks Congresswoman Gillibrand for Clinton's Senate Seat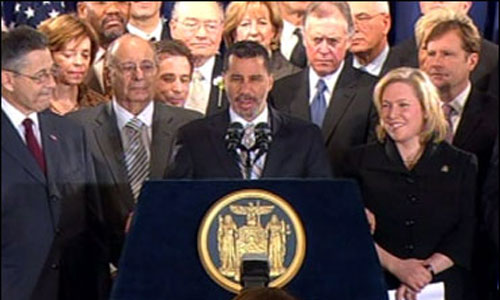 Gov. David Paterson has picked Democratic U.S. Rep. Kirsten Gillibrand to fill New York's vacant U.S. Senate seat. At the press conference announcing the governor's pick, take a look at who's right next to Paterson. It's former Senator Alfonse D'Amato, now a lobbyist. From left to right, in the screen: Speaker Shelley Silver, D'Amato, Paterson, Gillebrand, Schumer. Behind them are several legislators, and Judith Hope, former chief of the NY Democratic party.
Gillibrand pledges to get to know her constituents in New York State.

Paterson innumerate the positive qualities of his senate pick.

Listen to the full press conference

Read more about the new senator here